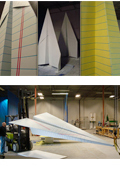 CORPORATE ART TAKES OFF
Chisel 3D is accustomed to unusual requests, so when we got the call to build a set of paper airplanes, the engineering wheels started turning. This was not a no-brainer: the client wanted a 16-foot long airplane and three 12- to 14-footers to hang from the ceiling of a corporate office atrium. They had to be lightweight, sturdy and smooth as, well, paper.
The Chisel 3D crew engineered steel frames in three different shapes for visual interest. They covered them in aluminum skins to keep the weight down and ensure a perfectly smooth finish. Meticulous masking and painting resulted in three planes that look as realistic as gargantuan pieces of paper possibly can.