BEHIND THE SCENES
Chisel 3D is a custom scenic and themed environment design and fabrication company in Atlanta, Georgia. We started in 2007 to help brands, companies and entertainment venues "wow" audiences with large-scale, high-impact, three-dimensional features. We cater to customers with big ideas for trade show exhibits, theme parks, museums, experiential marketing events, retail stores and any other environment where memorable impressions are good for business.
From the beginning, we have insisted on top quality craftsmanship, artistic excellence and careful attention to detail. Our advanced technology and talented crew ensure our customers get the exact look and functionality they expect, whether it's a single sculpture, an entire themed event venue or a permanent installation. We can work with customers' existing designs, collaborate with design firms or come up with original creative concepts to achieve our customers' goals.
As Chisel 3D's capabilities grew, we took on bigger and more complex projects for organizations of every size across the U.S. In May 2015, we took our biggest leap forward yet, becoming a division of ID3 GROUP, a world-class, full-service custom fabrication company based in Atlanta. Integrating Chisel 3D's scenic and sculptural services into ID3 GROUP's 125,000-square-foot carpentry, metal and paint facility creates a one-stop fabrication powerhouse and greatly expands our capabilities and capacity to meet customer needs.
TEAM
The team at Chisel 3D has just what the custom theming business requires: creativity, artistic skills, engineering acumen, technical knowledge, mechanical ability and management smarts. We also have incredibly high standards and nothing leaves our shop without our seal of approval. Gary Bystrom, VP of Scenic, heads up our diverse and talented team of designers, computer modelers, sculptors, fabricators, painters and project managers.
CUSTOMERS
Chisel 3D's customers are advertising, public relations and experiential marketing agencies, trade show exhibit companies, theme parks, amusement parks, museums, zoos, aquariums, retail stores, hotels, casinos, restaurants, churches, event companies, architectural firms and corporations – basically anyone who wants to make a big impact with cool 3D features.
Curious about the process? Visit our process page!
CAPABILITIES
Chisel 3D's theme design and scenic 
fabrication capabilities include:
Concept design
Structural design
Maquette sculpting
Digital sculpting
3D scanning
CNC machining
Foam carving and detailing
Hard-coating
Painting
Mold making
Fiberglass work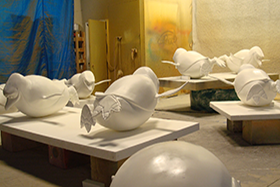 FACILITIES
We are part of a 125,000-square-foot production facility equipped with:
Computer-controlled, digital 3D scanner
Large-format CNC machining equipment
Computer-controlled hot wire system
Foam-carving stations
Woodworking, metalworking and paint shops
Hard-coat booth
Roto-casting equipment
Paint mixing station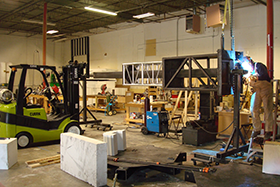 Chisel 3D is a member of IAAPA, the International Association of Amusement Parks and Attractions.