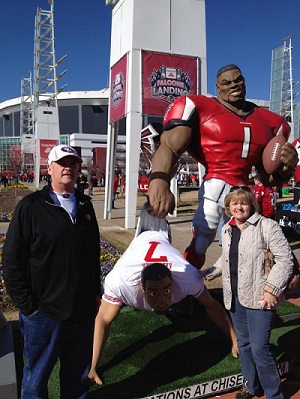 The 10-foot-tall sculpture of an Atlanta Falcons player (appropriately named "Riser") picking up a cowering player from the opposing team by his uniform pants has been a staple for pregame festivities outside the Georgia Dome since its debut in 2009. The characters, made by Chisel 3D, were designed for fan interaction and photo ops. The Falcons marketing staff even arranges for the wedgie victim to don a real team jersey of the Falcons' opponent. There was never too much hoopla around this jersey-changing practice, but before the NFC Championship game on Sunday in early January 2013, the larger-than-life football player replica gained new attention in a big way.
When the parents of San Francisco 49ers quarterback, Colin Kaepernick, posed with the familiar, giant football characters in the Atlanta Falcons fan zone before the 2012 season's NFC Championship game, the retweeted photo was instantly picked up by popular sports site Deadspin.com. The Deadspin article and accompanying photo garnered close to 60,000 unique visits in the first two days. While impressive, that number pales in comparison to the number of views the now-famous photo received after going viral through additional online publicizing by the likes of NESN, Yahoo!, USA Today and the Los Angeles Times. With countless other sites picking it up as well, viewership soared into the millions with the numbers still climbing.
Asked about "Riser's" surge in popularity and his pre-game photo op, Chisel 3D President Gary Bystrom says, "It's great to see the long lines of people excited to interact with the figures four seasons after making their debut. Whether rooting for or against the hometown Falcons, it's nice that people appreciate its intimidation factor while also seeing the humor in it."
The longevity of the portable "Riser" statue is credited to its durable frame, fun nature and the simple fact that fans of the Falcons and visiting teams still love getting their pictures with it. Just ask Mr. and Mrs. Kaepernick.