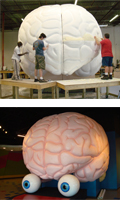 HealthWorks! is a combination children's museum and health education center in Tupelo, Mississippi. One of the facility's main exhibits is a 16-foot by 16-foot replica of a human brain – the centerpiece of the Brain Theater.
Chisel 3D took on the massive project, which started with a scan of a life-sized model. EPS foam blocks were milled into shape with a four-axis CNC router and attached to a steel armature to give the piece structural integrity and create an inner compartment for audio/visual equipment. After sculpting to achieve realistic details, the brain was hard-coated for durability.
Because the finished brain would be too big to fit on a truck – or get through a doorway – the Chisel crew built it in four quadrants that were shipped on flatbed trucks and assembled on site. After assembly, our guys finished the seams, installed 150 LED lights and painted the entire piece.