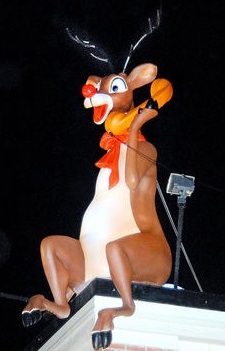 Scribbling on tablecloths, jotting numbers on napkins – we've all done it to share information or convey an idea. A customer of Atlanta theming fabricator Chisel 3D recently upped the ante on this age-old practice by asking to recreate a giant Rudolph reindeer based solely on a grainy, 50-plus-year-old newspaper clipping and the faded memories of local Baby Boomers. The results yielded a larger-than-life replica and an oversized dose of nostalgia for the folks of Easton, Maryland.
Easton Utilities executives Hugh Grundin, CEO, and Bill Russell, Manager of Cable and Communications, initiated the effort to bring the red-nosed icon back to life. Both men remembered the original Rudolph sitting atop a downtown building ledge in their childhoods. Despite their fond memories, neither Grundin nor Russell could say why the loveable reindeer's annual presence on the ledge ceased. "We're not sure what really happened to him," said Russell. Realizing the joy and excitement Rudolph could bring to a new generation of East Marylanders, there was no doubt in either man's mind that a new version must be built. So, Russell hired Chisel 3D to bring back this figure of yesteryear.
Designing and building three-dimensional sculptures for uniquely themed environments is Chisel 3D's bread and butter. Since every piece is custom, they pay particular attention to the early planning stages to ensure the customer's vision is reflected in the execution. Rudolph, for instance, went through several rounds of revisions before landing on the agreed-upon design. "We wanted to get the model just right since the original piece remained a vivid childhood memory for so many people," explains Chisel 3D owner and president, Gary Bystrom.
Finally the big day came for the new Rudolph to be revealed in Easton to onlookers of all ages. Some came to relive happy experiences of the past while others looked to start a new tradition for their family's holiday season. Unanimously, everyone had smiles on their faces as they stared up in admiration at the red glow of this generation's Rudolph at Easton's Talbottown.